Explore what we stand for
Passion
At Strategic Endeavour Partners, we are passionate about supporting our clients and their teams in their leadership journey.
We help them develop competencies to excel at achieving professional and organisational goals.
We get excited about facilitating enhancement of on the job performance, personal productivity, self-directed learning and personal growth of individuals and the businesses they work in.
We feel rewarded when they operate at their best when it matters most – in work and life.
---
Purpose
Our purpose is to maximise leadership potential.
---
Principles
Our work is guided by three basic principles:
to place our client's interests first,
to create value for clients through maximisation of leadership potential, and
to lead the coaching profession by continual professional development and training.
---
Process
Our approach is based on the science of coaching and leadership development.
The systematic process our clients undergo is often described as empathetic, challenging and thought provoking based on rigorous assessment and analysis. Throughout that process, the adopted coaching style is collaborative, strength-focused, and results-oriented.
Our science-based, holistic approach to sustainable behaviour change helps our clients for example to expand their energy capacity for improved performance and resilience.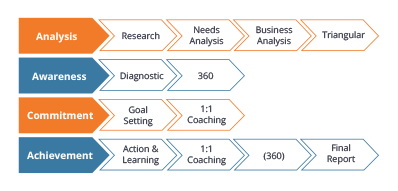 ---
Presence
Working together as a professional network of like-minded coaches, we have established a presence in Brisbane, Sydney, Melbourne, Perth, and the Gold Coast with further associations overseas.