Our Services

1. Executive Performance Coaching
Performance Coaching is a collaborative relationship that helps executives maximise their leadership potential. It is a solution-focused and reflective process of setting realistic goals and taking specific actions incorporating adult-learning frameworks.
Performance Coaching can
support executives perform at higher engagement and energy levels
assist them transition to the next level in their career
align individual and organisational goals
assist managers to become more effective leaders of people
build capabilities and develop critical areas of personal performance
increase self-awareness and identify 'blind-spots' in professional effectiveness
improve overall leadership effectiveness and performance
facilitate and lead to transformational change
be a sounding board and safe place to explore the 'undiscussable'
---

2. Onboarding
Onboarding is the structured, planned and facilitated process of integrating or assimilating a new executive or a newly promoted executive into their new organisation or role. The typical Onboarding process includes an initial workplace analysis and orientation process in addition to a consequent 3-6 month coaching engagement.
Onboarding can
reduce time to productivity
solidify purpose of the new role and focus executive's actions
drive satisfaction in new role
help assimilate the executive with new culture
increase overall engagement and retention
A successful Onboarding engagement minimises the executive derailment risk and provides better and faster ROI for the employing organisation.
---

3. Career Transition Coaching
Career transition coaching helps clients develop their personal brand and to effectively market it to potential employers. Clients undergo a process of reflecting on their career purpose, innate values and motivators and identifying their signature strengths and motivated skills – the skills and abilities that will provide them with a sustainable competitive advantage in the workforce. One outcome is a realistic and detailed career plan.
In addition, clients are motivated and committed to change and take personal responsibility to actively manage their careers.
Career Transition Coaching can
facilitate identifying career purpose in a holistic context
reveal hidden strengths and uncover development "blind spots"
empower individuals to:
o have important career discussions with line managers
o identify career fit
o accept responsibility for and drive their career
---

4. Team Coaching
Team Coaching drives high performance at the group level and develops thriving leadership teams. Strategic Endeavour works closely with each client, ensuring every program is customised to achieve the desired objectives. Programs may incorporate team coaching sessions, assessments and workshops to increase self-awareness and team functioning.
This service is ideal for leadership teams who are newly formed, or existing teams that want to transition to the next performance level.
Team Coaching can
help teams understand their unique mix of strengths and development areas
increase role clarity
improve relationships between team members and increase their ability to solve complex issues
recognise shared team values and culture
identify and correct potential problem areas to maximise team performance
fast-track improvement in team performance leading to increased organisational performance
---

5. Leadership Advisory
A particular focus of our Leadership Advisory and Development service is the alignment of professional development objectives with business strategy.
Leadership Development Programs
We partner with leaders and organisations in:
Delivering successful leadership development and change programs by involving the people that matter and shifting their mindsets from an 'event' focus to a 'journey' focus
Assisting senior executives develop their awareness and understanding of leadership, management and development of their people, with the view to derive better options, make better choices and achieve better results
Designing leadership development programs which achieve the desired business outcomes by engaging executives individually to commit and thrive for performance excellence, encouraging them to accept responsibility, and enabling them to implement and drive necessary business or cultural change
Designing strategies for talent development and growth leading to strong retention by engaging and motivating a diverse, high performing workforce
Establishing a culture which overall improves the organisations competitive advantage
Leadership Development can
enable clients to achieve success through others
reveal a client's authentic leadership style and purpose
help one identify their unused potential
help one understand their extrinsically and intrinsically motivators and find the appropriate leadership paths
discover new strengths, talents, and passions
align personal principles, values and ethical boundaries with personal behaviour
align leadership behaviour to business strategy
facilitate an understanding of why leaders lose their way and develop the self-awareness needed to avoid derailment
---

6. Leadership Expedition
Click to view our NZ Leadership Expedition brochure for 2018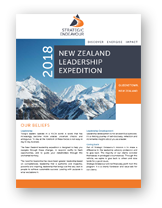 ---

7. Resilience & Well-Being
To operate at our personal best when it matters most, at work and outside of work, is our goal. Today's work environment requires new thinking and techniques to better cope with ever increasing demands. Multi-tasking does not provide the answer. We believe expanding your energy and resilience does.
Our tailored well-being programs support executives in the transition from 'surviving' to 'thriving' by enhancing personal productivity, resilience and psychological well-being.
Resilience & Well-Being programs can lead to
increased resilience and mental toughness
improved work/life integration
better decision making
expansion and better management of our energy
more sustainable high performance
lifted employee productivity
higher engagement – at work and at home
---

8. Workshop Facilitation
We work with Boards and Executive Teams on a wide range of topics:
Strategy development, alignment, and review (company-wide or business-unit)
Development of company statements such as vision, purpose and values
Multi-party (joint venture) alignment
Innovation and ideation workshops
Leadership team development
Workshop Facilitation can
provide an outside-in and independent perspective which allows workshop participants to better resolve alternative viewpoints and keep meetings focused
manage personalities, team dynamics and keep the agenda on track
reduce the risk of unproductive meetings and wasted valuable executive time
achieve strategic clarity
drive executive or board alignment
create a sense of purpose and passion for execution
increase individual's accountability
surface underlying assumptions of workshop participants